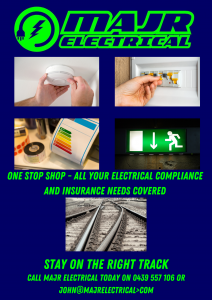 Do you know that NOT regularly maintaining and testing your business's electrical equipment means that you might be in breach of your insurance contract, and so you MAY NOT be able to make an insurance claim in the event of an electrical fault?
Having a regular electrical maintenance schedule means that your business will ensure that its equipment is working efficiently. This includes:
Emergency Exit Lighting – Replace with modern LED lighting to save money
Safety Switch (RCD) Testing – Six monthly testing and fault finding and replacement to protect people and equipment 
Smoke Alarm Testing – Smoke alarms must be replaced after ten years
Testing and Tagging – Ensures business equipment won't cause fires or other damage
MAJR Electrical offers a complete one-stop stop, easy electrical business compliance service by ensuring all this work is completed at the same time.
We also understand the need to work around our customers and staff in busy work environments, so we test and tag at times which best suit your business. For example, testing Safety Switches (RCDs) before production or before your shop or office open. 
The same with Smoke Alarms – we don't want to "alarm" people, so organise a suitable time which means your business operations will not be interrupted. The same with Emergency lighting upgrades and repairs.
You will receive an Electrical Compliance Maintenance report with your invoice which documents all of the work. This means you will have less to organise and only one bill instead of four invoices for four different scheduled maintenance jobs, causing unnecessary disruption and expensive costs.
Our lead electrician, John Miller, has a background in Property Services at Holden.  This means he understands the importance of minimal disruption, and ensuring that your business is fully operational at all times.
John will ensure that you won't spend hours dealing with different electrical issues as he will organise for MAJR Electrical to come in and do ALL your electrical business compliance needs at the one time … Which will save you time and it makes "cents.