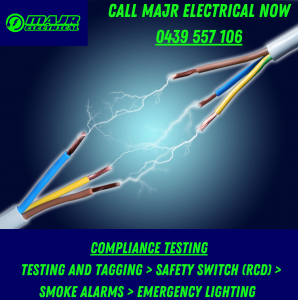 When starting a new business, primarily the focus is on what you do in your business, and not on what needs done to ensure your business is compliant.
In an office or a factory environment, there are lot of factors that need to be considered, with Number 1 being safety, followed by being efficient and cost effective.
Also, as a new business owner, your most important obligation is to ensure that you, your employees and your customers remain safe, while saving you money.
Ensuring your business's electrical safety compliance is taking the first step in this direction by: 
MAJR Electrical offers a full electrical safety and compliance service, where we take care of all of these criteria.
Electrical safety reports and safety audit documents are forwarded to your Chief Safety Officer, with recommendations on ensuring your business remains safe included.
Ensuring your business makes the most of your business's space and budget is the next step by:
installing LED downlights
maximising output through new configurations of power points or lighting 
upgrading power points with USB charger points
MAJR Electrical offers no obligation, free advice and quotes to help you ensure you make the most of your business's space and budget.
We work within your availability and timeframes to ensure you can maximise your business potential whilst taking care of your electrical safety requirements.
As a new business owner, you should also consider joining groups such as Switch Start Scale, who work with new business owners too quickly grow their business. Switch Start Scale have a directory. 
MAJR Electrical is offering a 10% discount (excluding materials) on any of these services if you mention that you found MAJR Electrical on the Switch Start Scale Directory.